SINGLE OPENING IN THE U13 2006 AND U15 2004 AGE GROUPS.
EMAIL TOURNAMENT@POTOMACSOCCER.ORG FOR MORE INFORMATION.
40th Annual 2019 Potomac Memorial Tournament
A Nationally Ranked Boys' Event with Over 60 NCAA Division 1 Schools in Attendance
May 24-27, 2019
Boys U9-U19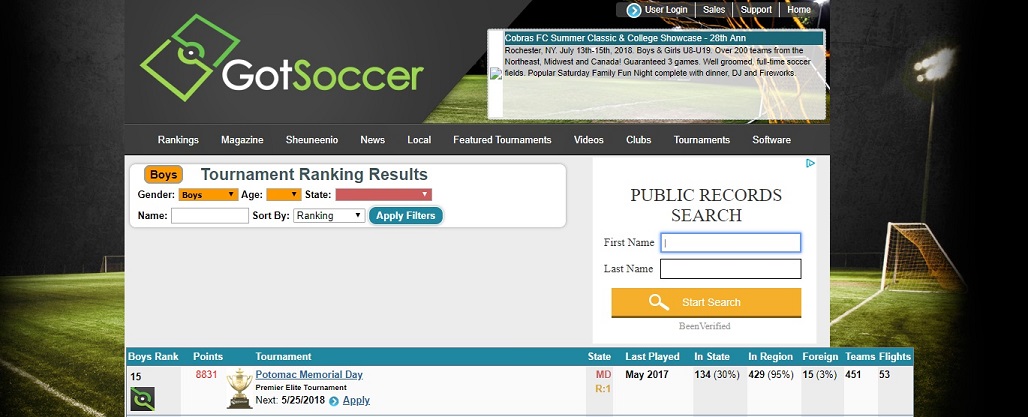 General Tournament Information
Monday, April 1, 2019
No later than Wednesday, April 10, 2019
Friday, May 24, 2019 - Monday, May 27, 2019
(limited number of showcase games to be played on Friday, May 24, for those teams U16-U19 able and interested)
The Montgomery County, Maryland (suburbs of Washington, DC)
Our location can be easily accessed from either of 3 airports; Baltimore-Washington International (BWI), Washington Dulles (IAD) and Reagan National (DCA).
Hotels must be reserved through the Montgomery County Convention and Visitors Bureau (CVB). Detailed information and a link for on-line housing service requests will be available on their web site.
To reserve a block of rooms, please click on the link below.
The Potomac Memorial Tournament is sanctioned through US Youth Soccer and US Club Soccer and participation is open to all teams.
There will be competitions for boys ages U9 through U19 with multiple flights as appropriate. Age groups U9 and U10 will be 7v7, U11 and U12 will be 9v9. Age groups U13 through U19 will be 11v11.
U9 & U10 - $795
U11 & U12 - $975
U13 - $1,100
U14 - $1,200
U15 - $1,300
U16 thru U19 - $1,350
U9-U14 - Each team will play three group games. In general, teams will play two group games on Saturday and one group game on Sunday. Semifinal matches will be played on Sunday afternoon, and Finals will be held Monday morning. Finalists will receive medals while Champions will receive medals and a cup.
U15-U19 – Each team will play three group games. Teams may play two group games on Saturday or two group game on Sunday. Some teams will play Friday evening showcase matches, in which case those teams will play only one game on Saturday and one game on Sunday. Finals will be played Monday morning. Finalists will receive medals while Champions will receive medals and a cup.
The primary venue will be the beautiful 24 field Maryland SoccerPlex in Germantown, MD. It is intended that all U16-U19 matches will be played at the SoccerPlex, as well as, all semifinal and final matches in all 11v11 age groups. We also will utilize up to 10 fields at the Potomac Polo Grounds in Poolesville, MD, up to 18 fields at Muldoon's Farm and Summer Hill Farm in Poolesville, MD, and up to 4 fields at Bullis School in Potomac, MD, as well as, The Landon School in Bethesda, MD and Connelly School of the Holy Child in Potomac, MD.
All tournament entry fees will be refunded in full when the tournament is cancelled or postponed, so long as the cancellation or postponement is the sole and direct result of a cause not otherwise excluded. The cause of the cancellation or postponement must occur during the period of insurance and be beyond the control of both the tournament organizer and the
participant(s). Full refunds will only be applicable in the instance that no games have been completed. A partial refund may also be granted if a tournament is shortened due to reasons out of our control. Any partial refunds will be at the sole discretion of the tournament organizer and only after confirmation from the Insurers.
*Please Note: Due to the nature of the contract, the insurance cost is not able to be included in claim. For example, a full cancellation refund is the entry fee minus the cost/ rate of insurance. Refunds for insured cancelled events are subject to approval of the insurance claim by the insurance underwriters and is not guaranteed.